Heather Susemihl
Heather started with MDPI in 2003, upon receiving her Masters in Architecture from the University of Idaho. She has a background in the visual arts, with undergraduate work in Fine Arts.  Heather earned her architecture license in 2009. In 2023, Heather relocated with her family to Coyhaique, Chile and continues to work with the team in McCall, with regular visits back.  You'll find her exploring the wilds of Patagonia hiking, camping, or sitting by a river reading a book.
Luke Vannoy
Luke graduated in 2002 with a Masters of Architecture from the University of Idaho and began working with McCall Design in 2003 after practicing in Boise. He has experience in commercial and residential architecture. Luke received his architectural license in 2008 and LEED AP in 2009. Luke spends his free time in his wood shop, snowboarding and mountain biking.
Courtney Snyder
Courtney graduated from the University of Idaho with a Bachelors in Architecture in 2012. She also studied Architectural Drafting and Design at North Idaho College and in 2008 obtained an Associates degree. Courtney began working with MDPI in 2014. In her free time, she can be found at McCall's local ice rink training for ice shows or helping score goals during a hockey game.
Andrew Laidlaw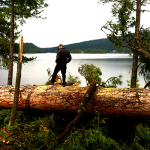 Andrew began McCall Design & Planning in 1981. After practicing for 33 years in McCall, Andy retired at the end of 2014. You'll still find him around McCall when he's not traveling, riding one of his many motorcycles, floating down the river or on some crazy adventure his family has dreamed up. With so many years in this community Andy developed a very good understanding of the problems associated with building in the McCall climate, many of which apply as good practices in the Treasure Valley as well. Andy shared his experiences and education with his 2 partners over the last 12 years in his practice.